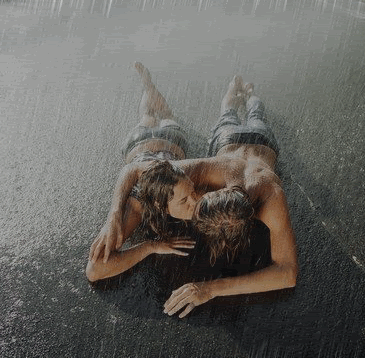 And both hands,
now use both hands.
O
h, no don't close your eyes.
I am writing
graffiti on your body...
I am drawing the story.....
-Ani Difranco
We are at a beach resort and it is raining; the rain will last until our departure tomorrow. There is not much to do at the beach with this drizzle so we've stayed sequestered in our tiny room. I have not slept like this since I was a teenager.

The corner room holds a bed and an armoire -- a bath built for small people juts off to the side. It is all that we need.

He asked me, a few minutes ago, with sleep in his voice, to get the bath brush. I scratched his back instead, cloaking my defiance in sweetness, until he was sleeping once again. Now I am sitting on the covered balcony, my inner thighs aching and tired from our activities of yesterday and this morning. My bottom is tender.

I am happy.

I plan to wake him with coffee and place myself, gently, over his lap, an offering to pass the time. (I will not offer him the bath brush as it seems too harsh for the delicate nature of the day. The rain needs only a hand for accompaniment.)

We had plans, but what we are doing is better. We curl together and whisper in our sleep, my fingers tracing the bedframe of his body, his hand resting on the pillow of my bottom.

In a few minutes I will wake him. And we will rock, rock, rock back to sleep.